Dr. Bryan Head, D.C.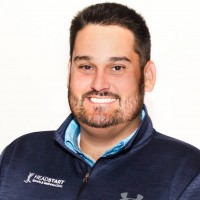 Dr. Bryan Head graduated with a Bachelors in Human Kinetics from the University of Regina. He then went on to complete his doctorate at New York Chiropractic College. Dr. Head is Board Certified to practice in Canada and the United States. Dr. Head is Certified through Titleist Performance Institute as a Medical Professional. Dr. Head is an avid golfer with a sports background that includes football, basketball, baseball and rugby. His goal is to improve and restore your health so you can get back to enjoying life and all your favourite activities.   
Victoria Pankow, Registered Massage Therapist
Victoria Pankow is the newest Registered Massage Therapist working in the East end of Kingston at the Head Start Sports and Wellness Clinic. She completed her 3 year Registered Massage Therapist training through Algonquin College in Ottawa, Ontario.
Her goal is to help alleviate pain through manipulation of muscles, joints and connective tissues. She listens with her hands and heart to ensure that you get the treatment and care that you deserve.