Golf Simulator Rental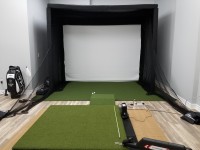 Living in Kingston can limit how long golfer's have to play during a year. While the courses are closed and the snow is on the ground, you can rent time on our SkyTrak indoor golf simulator. With our 2 programs SkyTrak and The Golf Club, you can warm up on the practice range and then play over 100,000 courses worldwide. Have you every wanted to truly map the yardages of your clubs? With the SkyTrak program, you can run through every club in your bag and get your REAL yardages and find out if you have any large gaps between clubs which could hinder your scoring ability. 
Renting our simulator is based on an hourly rate and is by appointment only. Only CLEAN spikeless golf shoes may be worn (barefoot is allowed). We please ask that your clubs be clean as well.